The Bull Fertility Evaluation and Reporting App for Vets.
VSR streamlines on-farm recording of bull fertility evaluations, simplifies morphology counting, automates the delivery of certificates and provides simple shared access to data by utilising a secure database and mobile app.
VSR | Veterinary Sperm Reporter
Designed in the UK by vets for vets, VSR and The BullApp is a novel bespoke software system that makes the process of recording and reporting bull fertility evaluations easier, faster and more accurate.
One Page Overview
PDF Quick Reference
Comprised of an Android and iOS app (The BullApp ) and backed up in a secure cloud database, the software enables a vet to:
Upload animal details (tag, breed, name & dob) in advance, and then download all evaluation data as a CSV file for analysis.
Easily record all evaluation data (including photos) on any mobile device while on-farm, even when offline.
Use the unique touchscreen counter to simplify morphology counting, recording and presentation.
Automatically store the data in a secure database for easy access and retrieval via vet and client portals.
Instantly generate practice-branded certificates based on the BCVA format and deliver them to the client.
Participate in a forum and novel CPD process to improve standards and consistency, benchmark against other vets and use as the basis for clinical audits.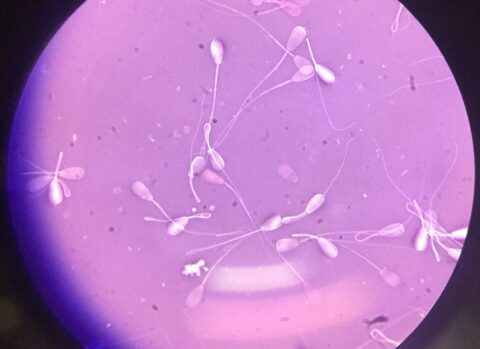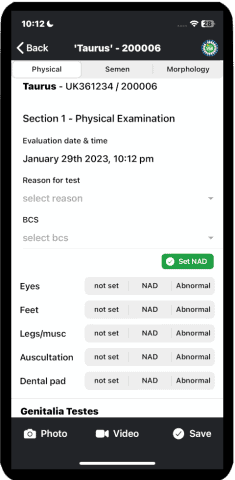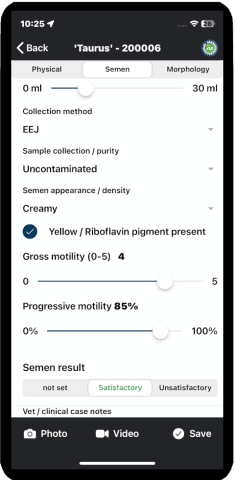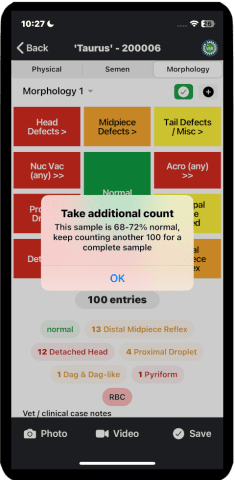 The BullApp
With a clear and intuitive user interface, The BullApp offers a highly-efficient way to record the physical examination, semen collection, morphology counting (using its unique touchscreen "Morpho Dashboard"), provide personalised certificates and simplifies data analysis.
The app is fully-functional when offline, allowing details to be directly entered as the evaluation is carried out on the farm. Animal details can be pre-loaded to reduce crush side admin. When an internet connection is available, the data held in the app is automatically synced to the online VSR database.
An evaluation can be signed off from within the app, enabling the immediate generation and delivery of a customised certificate to the client.
Blog
Latest on the development of the VSR system and CPD events …